If you are thinking about or planning a splatter paint party and you are looking for the perfect idea for a cake, you've found it! I'll walk you through everything I used to make this cake come to life as well as some videos of what the process looked like.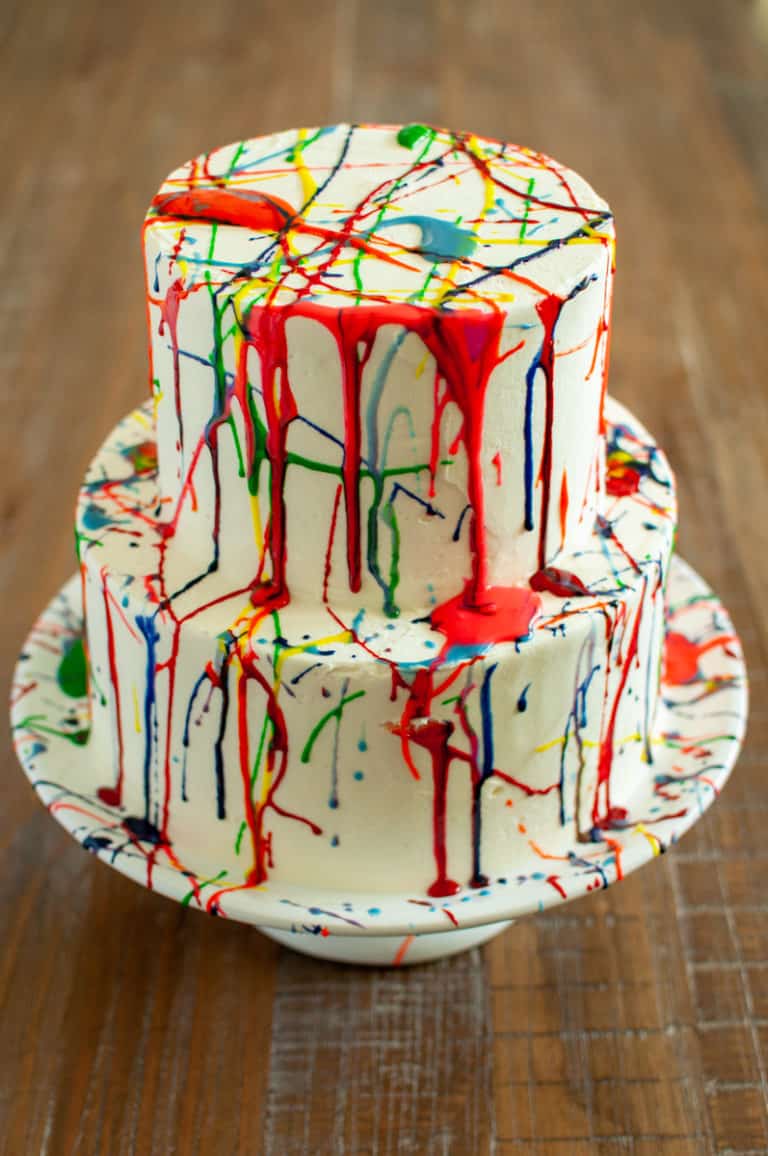 Every year, I let my kids design the cake they want for their birthday. This year my daughter picked a splatter paint party, and the cake design she came up with was right on brand. What made the situation slightly harder, but also absolutely made the most sense is that she wanted to splatter paint it herself. It was her birthday cake after all.
Jump to:
🛒 Ingredients for Splatter Paint
Powdered Sugar
Water
Food Coloring
I did a very basic royal frosting to make the splatter paint. In small bowls or cups, mix about ½ cup of powdered sugar with the food coloring of your choice, and ½ teaspoon of water at a time until it drips in thick ribbons.
If your frosting is too thick it dollops instead of splatters. If it's too thin, it looks like watery drips instead of sticking in a thick pattern.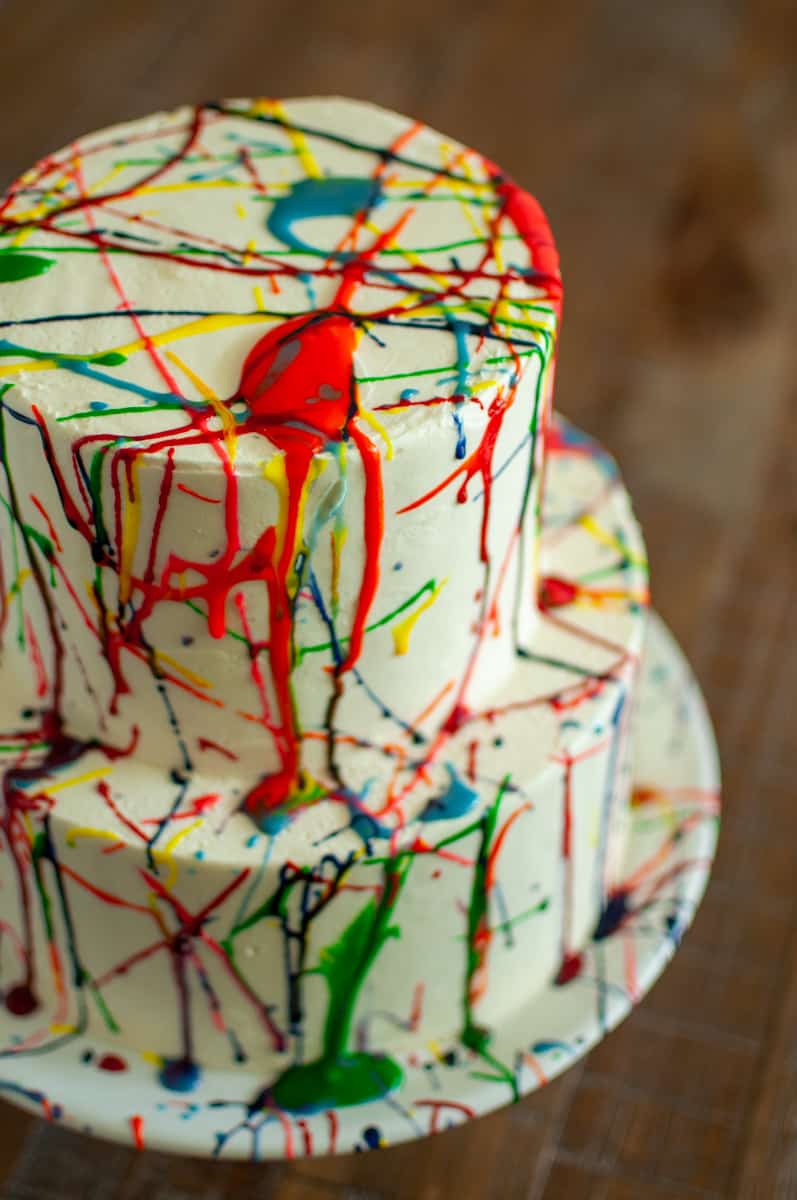 🍰 The Cake Base
I used my tried and true, always well-loved Vanilla Cake recipe. The only special thing she asked for was to also have some pops of color inside, so I used some leftover Unicron sprinkles from last year's party to give it a funfetti flair.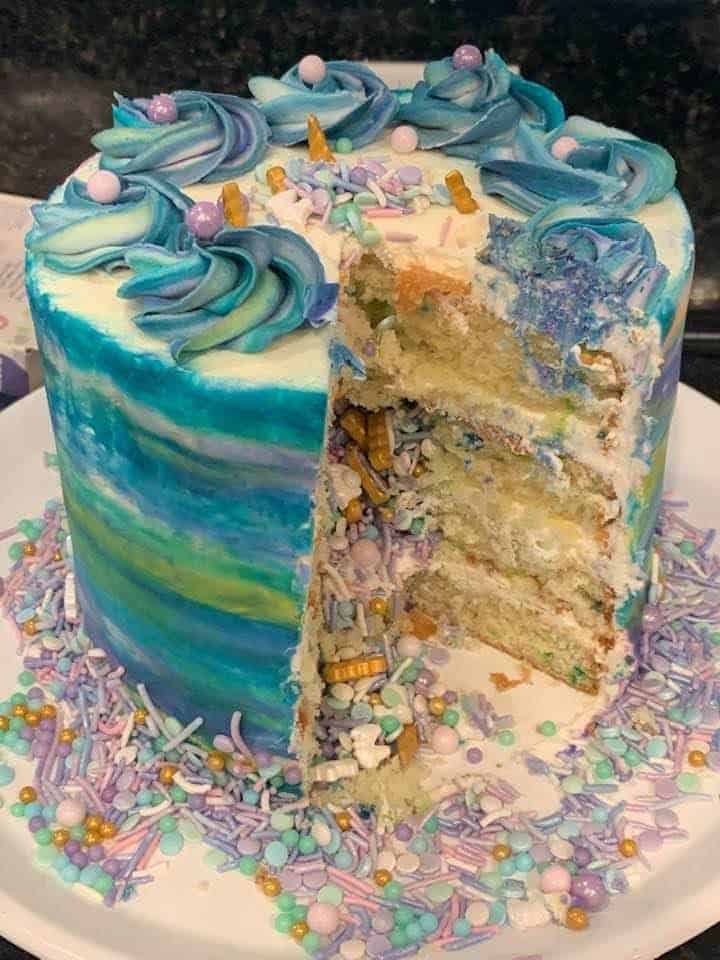 ⏲ Shortcut
Go to your local bakery or grocery store and order a plain white buttercream cake if you are nervous about the actual cake-building side but still want the fun of decorating it yourself. 
This shortcut can save you a ton of time and stress you if are a beginner baker, and leave you with just the fun splatter painting part.
🧁The Frosting
For the main white frosting on the cake, I used a simple American-style vanilla buttercream. It's simple, easy, delicious, and can easily be modified to any flavored extract you are looking for. For example, my daughter actually wanted lemon frosting, so I just added a tablespoon of lemon juice at a time until it was nice and lemony.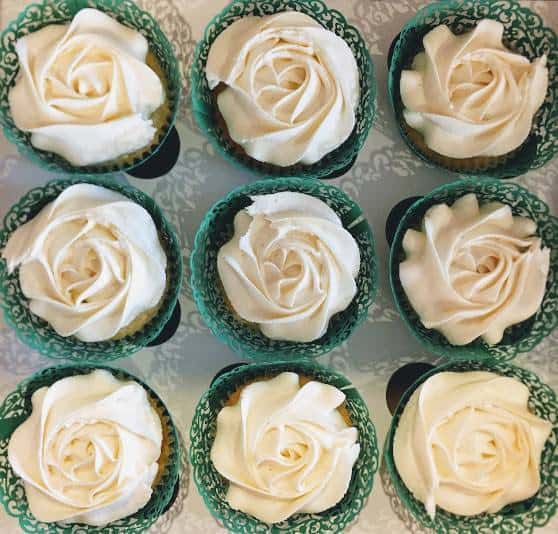 👩🏼‍🍳 Chef Tip
I HIGHLY SUGGEST practicing before you go full-on at the cake. I used some of the leftover cake frostings and haphazardly frosted an upside-down cup. The same spoons I mixed the colored frosting with,  drizzled and splattered.  See the video in the recipe below!! 
💧Protecting Your Space
As you can imagine this got messy fast and food dye stains. I made my daughter's apron up to protect her, but I also completely covered the space she was working on with parchment. A plastic tablecloth, newspaper, anything will really work.
I also however built a backstop to catch anything she flung too hard by taping together some old cake boxes I have. A cardboard box cut open would have also worked. Using some painter's tape, I just taped it straight on the counter and it worked PERFECTLY.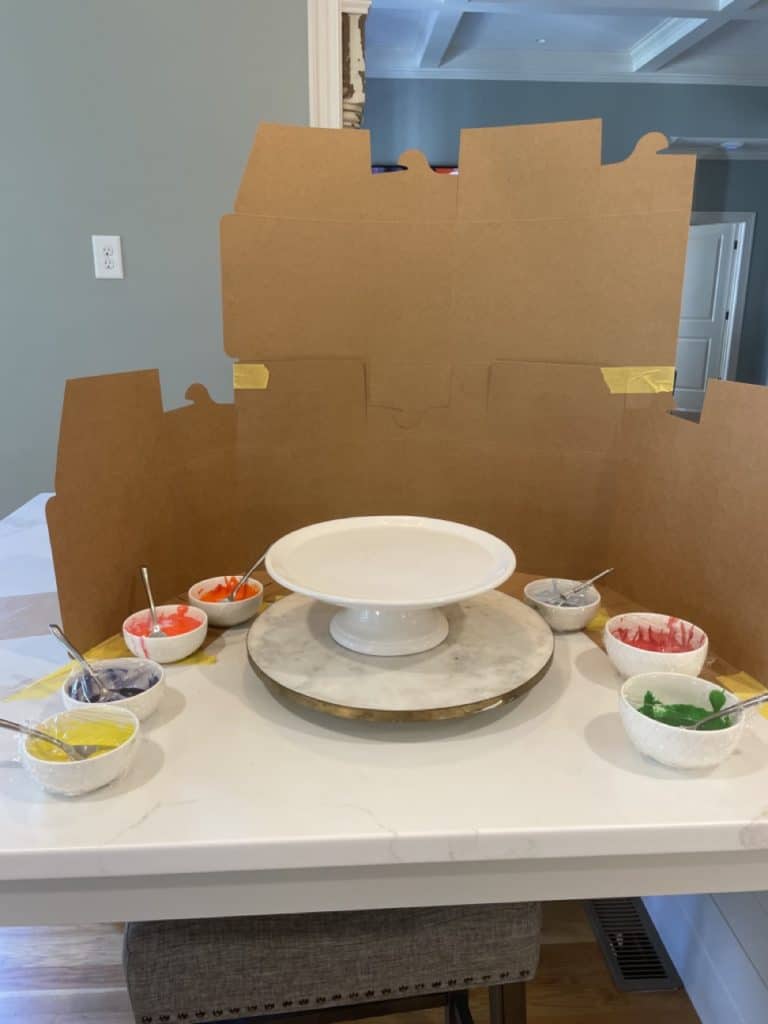 That chair under the island should have been covered and it was a mistake on my part. Learn from me, and remove any and all things that you would be sad to have frosting all over it. My floor also got decently covered which wasn't a huge deal, but if you have floors that are white oak or could possibly absorb any dye, I would highly suggest covering those as well.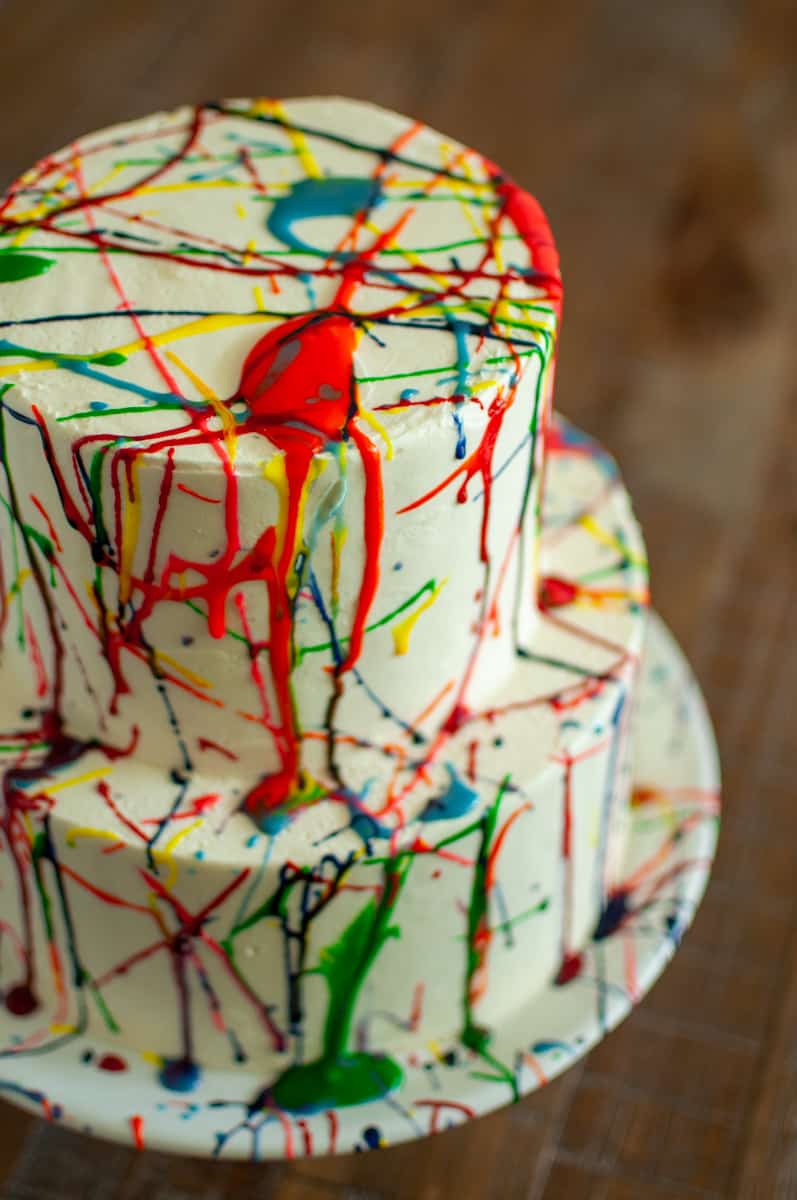 Needless to say, this was a home run. Not only because it looked super cool, but because it was HER creation. Her art. Did I need to put my OCD to the side a little and just let her go... Yes. Was it hard... Yes. Any regrets? Only about not moving that chair, haha.
If you are wondering if you can do this, the answer is yes. Have fun, and be creative!
📖 Recipe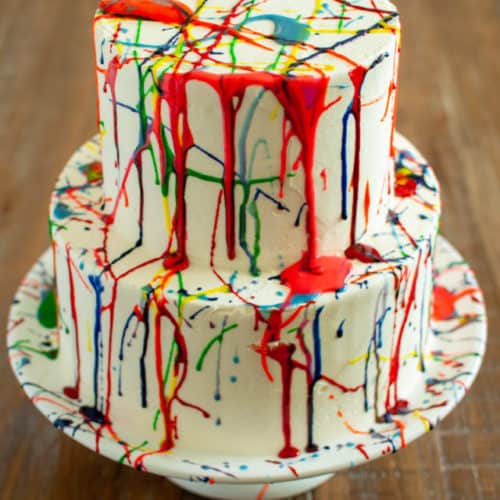 Splatter Paint Frosting
This splatter frosting is perfect for your homemade splatter paint cake! Easy, quick, and customizable to any color you can think of. Have fun!
Equipment
Small Bowls

one for each color

Spoons

one for each color
Ingredients
½

cup

Powdered Sugar

½

teaspoon

Water

Food Coloring

-

as needed
Instructions
Using one small bowl for each color, add ½ cup of powdered sugar to each bowl.

Add ½ teaspoon of water to start & the food coloring of your choice and mix until smooth.

Depending on the amount of food dye needed, you may need to thin out your splatter paint frosting with ¼ teaspoon of water at a time or until thick ribbons form.

When mixing, If your paint gets too thin or drippy add 1 tablespoon of powdered sugar at a time until you get back to a thick ribbon-like consistency.

Splatter until your heart is content!
Nutrition
Calories:
233
kcal
Carbohydrates:
60
g
Sodium:
1
mg
Potassium:
1
mg
Sugar:
59
g
Calcium:
1
mg
Iron:
0.04
mg