Risotto is a traditional Italian dish made with short-grain rice cooked slowly in broth and white wine until it reaches a creamy texture. However, reheating risotto can be a bit tricky, as it can easily dry out or become mushy. In this post, we will discuss how to best reheat risotto and the best methods to ensure that it retains its creamy texture and delicious flavor.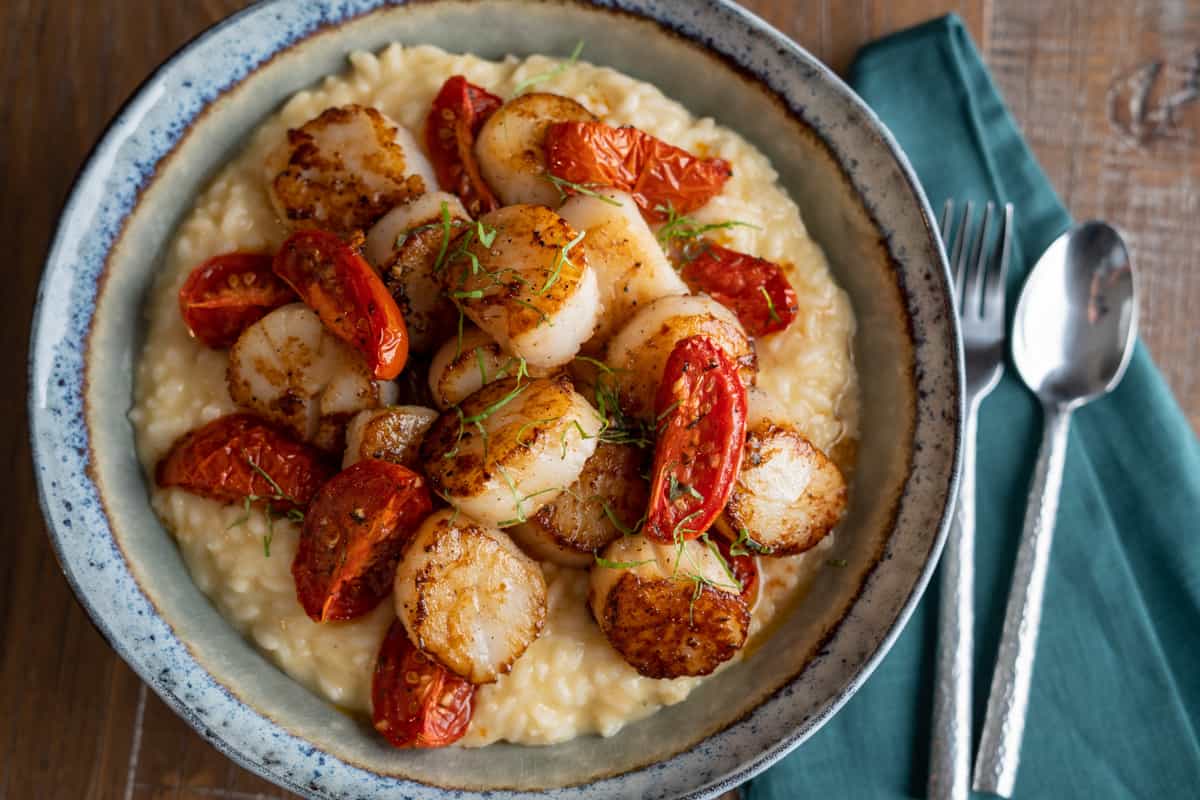 Jump to:
Easy Methods for Reheating Risotto
Proper reheating is critical to avoid potential food poisoning and tummy troubles, but proper storage is just if not more important! Make sure to jump down and see our tips on the best storage options as well.
Saute Pan or Frying Pan: This is our personal favorite method! Heat up a non-stick pan on medium heat and add a little bit of butter or olive oil. Add the leftover risotto to the pan with a splash of stock, water, or wine, and stir occasionally for about 5-7 minutes. 
Microwave Method: Place the leftover risotto in a microwave-safe dish and cover it with plastic wrap or a damp paper towel. Microwave on medium power for 1-2 minutes, add a splash of water, meat broth, or white wine then stir and microwave for another 1-2 minutes. 
Oven Method: Preheat your oven to 350°F. Place the leftover risotto in a glass bowl or baking dish and cover it with aluminum foil. Bake for 10-15 minutes or until heated through. The risotto will most likely have dried out a bit and need a splash of water or chicken stock.
Using a Steamer Basket: I've heard of this method but never used it. It's supposed to help retain the creamy texture and not dry out the risotto. Place your bowl or plate of risotto covered in foil or plastic on top of a steamer basket (over simmering water) and place the lid on top for 3-4 minutes. 
Tips for Reheating Risotto
Proper Storage
To ensure that your risotto stays fresh for the next day, store it in an airtight container in the refrigerator for up to 3-5 days. For larger batches, it's best to freeze the risotto in smaller portions. When reheating frozen risotto, allow it to thaw in the refrigerator overnight before reheating it using one of the above methods.
Add Extra Liquid
Risotto tends to absorb liquid when refrigerated, so it's essential to the reheating process to add a little bit of liquid when reheating it. Adding a splash of water, chicken or vegetable broth, or white wine will help loosen the rice and prevent it from drying out.
Avoid High Heat
Avoid heating the risotto at high temperatures, as it will cook too quickly and become mushy. Instead, use low or medium heat and stir occasionally to prevent sticking and ensure even reheating.
Making Something New
You have more options than just reheating your risotto. You can turn it into something completely different. Leftover risotto can be used to create a variety of delicious dishes. Here are some ideas:
Arancini: These are fried rice balls stuffed with cheese or meat. You can shape your leftover risotto into balls, stuff them with your favorite ingredients, coat them with breadcrumbs, and fry them until golden brown.
Risotto cakes: You can form your leftover risotto into patties and fry them until crisp. They make a great side dish or a vegetarian main course.
Risotto soup: Add some chicken or vegetable stock to your leftover risotto, and heat it up on the stove. You can also add some cooked vegetables or meat for extra flavor.
Stuffed vegetables: Use your leftover risotto as a stuffing for bell peppers, zucchini, or tomatoes. Bake them in the oven until tender.
Risotto frittata: Mix your leftover risotto with some beaten eggs and grated cheese. Cook it in a non-stick pan until set, and serve it as a brunch dish.
Risotto croquettes: Mix your leftover risotto with some beaten egg, cheese, and bread crumbs. Shape the mixture into croquettes and bake them in the oven until crisp.
By following the above steps, you can ensure that your leftover risotto retains its creamy texture and delicious flavor. Additionally, you can use the leftover risotto to make a new dish or to create quick lunches.
Storing Your Risotto
Proper storage of risotto is essential to maintain its quality and prevent the growth of harmful bacteria that can cause food poisoning. Here are some tips on how to store risotto:
Cool it quickly: After cooking risotto, allow it to cool down quickly to room temperature. This can be achieved by spreading it out on a large plate or a shallow container.
Store in an airtight container: Transfer the cooled risotto into an airtight container or a zip-top bag. Make sure to remove as much air as possible to prevent the growth of bacteria.
Refrigerate right away: Store the container of risotto in the refrigerator promptly. It should be stored at a temperature below 40°F (4°C).
Use within 3-5 days: Risotto should be consumed within 3-5 days after it has been cooked. Discard any leftovers that have been left in the refrigerator for longer than this time.
Freeze for longer storage: If you have a large batch of risotto that you cannot consume within 3-5 days, you can freeze it for longer storage. Divide it into individual portions and store them in airtight containers or freezer bags. Label and date each container and store them in the freezer for up to 3 months.
What Is Risotto
Risotto is a traditional Italian dish made primarily from short-grain rice, such as Arborio, Carnaroli, or Vialone Nano. The rice is cooked slowly in broth or stock, typically with onions, garlic, and white wine, and stirred constantly until it reaches a creamy consistency. Other ingredients such as butter, cheese, vegetables, herbs, and meat or seafood may be added to create a variety of risotto dishes. The result is a rich, creamy, and flavorful dish that is popular around the world.
If you are looking for a show-stopper of a risotto recipe to try out next, our Truffle Risotto with pan-seared scallops and roasted tomatoes is a must!