Scallops, those delicious morsels from the sea, are a sought-after delicacy that can be enjoyed in a variety of ways. Whether seared to a golden brown in a hot pan or wrapped in bacon for a savory treat, scallops are a main course that can elevate any meal. But what happens when you have leftover scallops? Can you freeze cooked scallops for future use?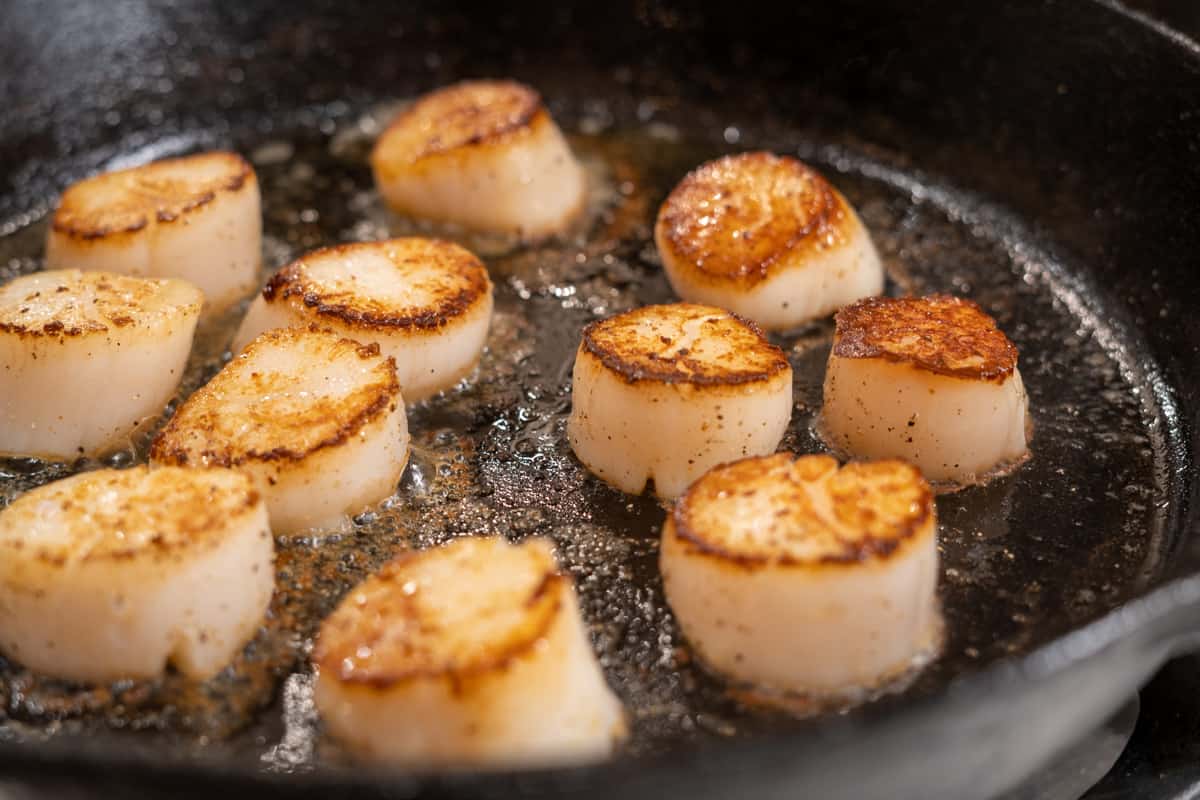 The short answer is yes you can reheat cooked scallops, but the process requires some careful steps to ensure the best quality & recipe selection. This article will provide a step-by-step guide on the best way to freeze cooked scallops.
Jump to:
Understanding Scallops
Before we delve into the freezing process, it's important to understand the nature of scallops. Whether you're dealing with sea scallops or bay scallops, these bivalve mollusks have a high moisture content.
This trait, while contributing to their succulent flavor, can be a challenge when it comes to freezing. Too much moisture can lead to ice crystals, which can affect the texture of the scallops upon thawing.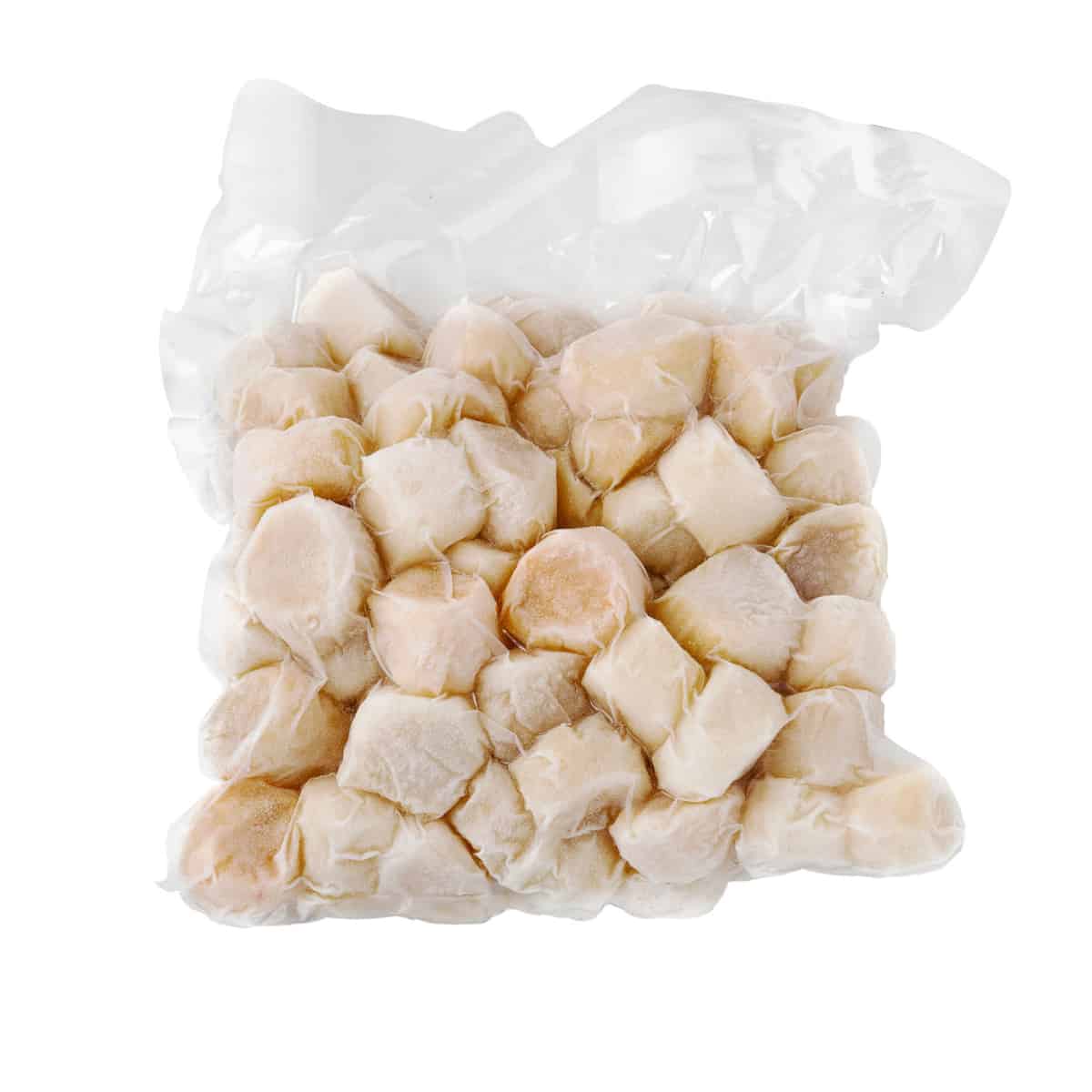 When seafood, such as scallops or shrimp, is frozen, the water inside its cells turns into ice crystals. These crystals can puncture cell walls, causing the cells to leak moisture when the seafood is thawed. This process is natural and largely unavoidable when freezing, and it's why many types of seafood, scallops included, tend to lose some of their texture and flavor after being frozen and thawed.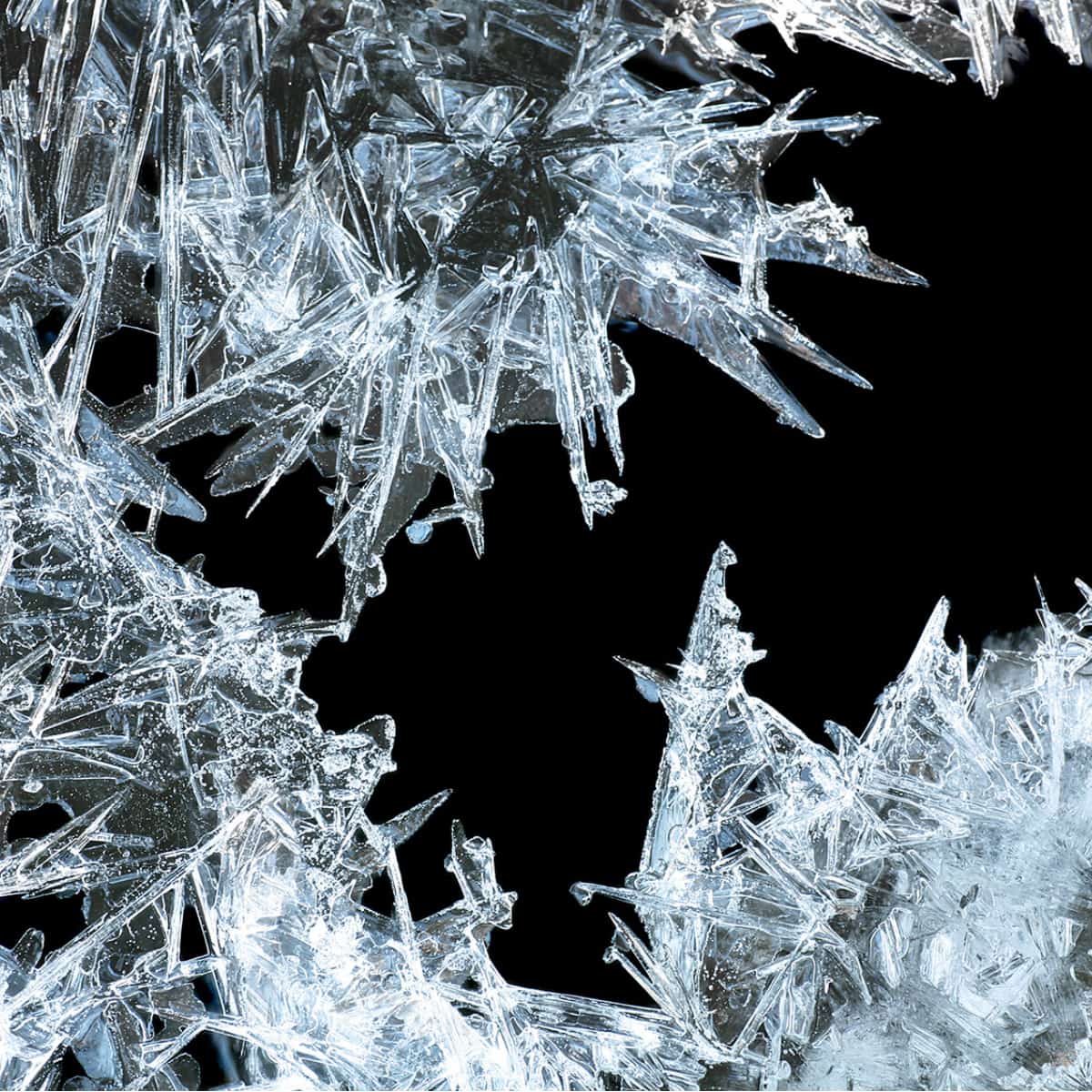 However, when seafood is frozen, thawed, and then refrozen, this process becomes more pronounced. Each time the scallops are frozen, more ice crystals form, and more cell walls are damaged. With each subsequent freeze-thaw cycle, more moisture is lost, resulting in dry and tough scallops, rather than tender and juicy.
Additionally, repeated freezing and thawing can lead to larger ice crystals which cause even more damage to the scallop's cellular structure eventually making them mush. As the cells break down and release their contents, the scallops may take on a more pronounced "fishy" flavor.
Ultimately, while freezing scallops once won't significantly impact their quality, repeated freezing, and thawing should be avoided whenever possible to preserve the scallops' texture, flavor, and overall quality.
Freezing Prep
Freezing cooked scallops is a simple process that involves a few simple steps. The most popular ways involve using an airtight container or a freezer bag. Let's explore these methods:
Airtight Container Method
Allow the cooked scallops to cool to room temperature.
Place them in an airtight container, ensuring not to crowd them. If possible, place them in a single layer.
Seal the container tightly and place it in the coldest part of the freezer.
Freezer Bag Method
Cool the cooked scallops to room temperature.
Arrange the scallops in a single layer on a baking sheet lined with a paper towel to absorb any excess moisture.
Once fully cooled, transfer the scallops into a freezer bag. Try to remove as much air as possible before sealing to prevent freezer burn.
Store in the coldest part of the freezer.
This method works perfectly if you plan to sous vide later!
With both methods, it's a good idea to label the container or bag with the date. While frozen scallops can be kept for a longer period of time, they're best consumed within three months to maintain the best quality.
Thawing Frozen Scallops
The best method for thawing frozen scallops involves a bit of patience. Place the airtight container or freezer bag in the refrigerator and allow the scallops to thaw slowly, usually overnight. This slow thawing process helps to maintain the scallops' texture and flavor.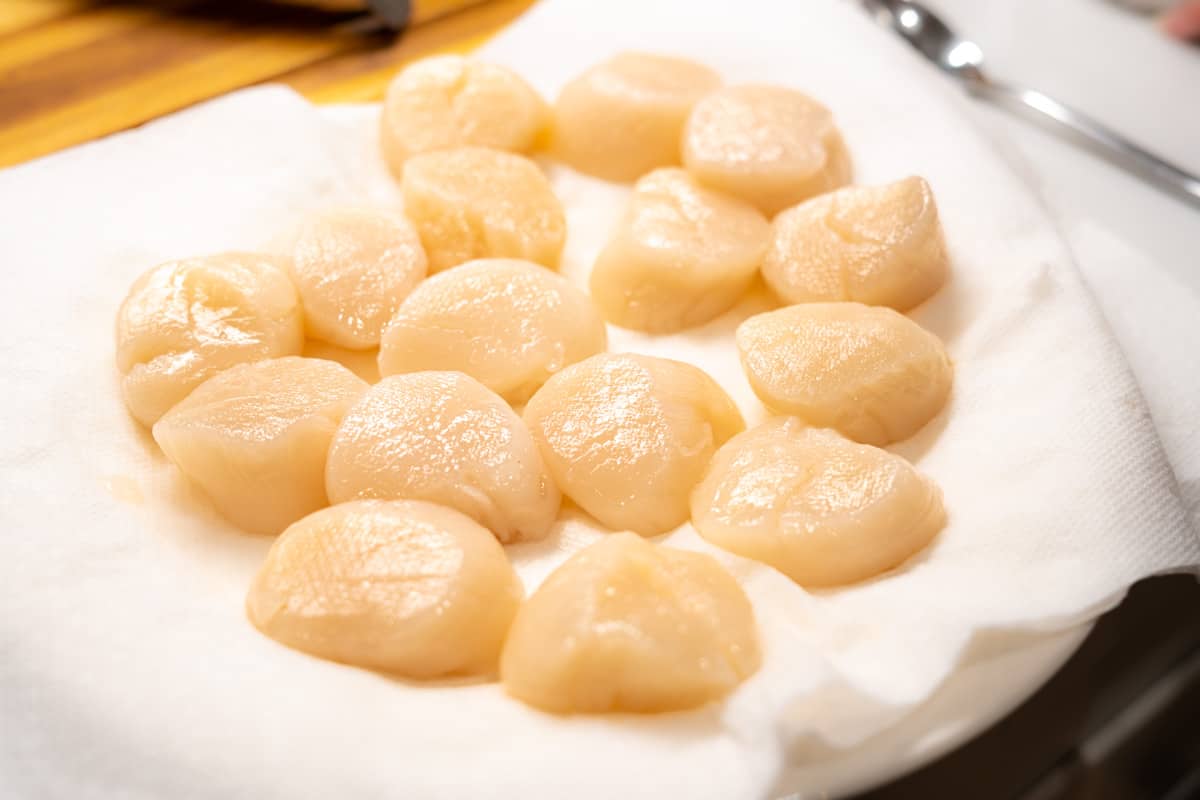 Avoid using warm water to speed up the thawing process as rapid temperature changes can lead to food poisoning by promoting the growth of harmful bacteria. If you need to thaw the scallops quickly, place the sealed plastic bag in a bowl of cold water, changing the water every 30 minutes until the scallops are thawed.
Cooking
Once your scallops have fully thawed, they're ready for cooking. Remember that they've already been cooked once, so you'll only need to reheat them.
The USDA has a whole article on reheating frozen foods from a food safety standpoint. We like to recommend checking it out just for additional safety information.
What Not To Do
We do not recommend microwaving leftover scallops! It more often than not results in very chewy scallops that are almost rubbery in texture.
Also, try to stay away from anything that continues to wick away moisture like an air fryer, or any kind of oven.
We also don't recommend going straight from freezer to pan. You will need to let your scallops thaw, or even come to room temperature if possible.
​Stove Top
A non-stick pan on medium heat with a bit of olive oil or butter is a viable option for reheating your scallops. Especially if you are working with scallops that were pan-seared originally. You're aiming for a good sear to re-crisp the outside of the scallops.
Try to avoid overly high temperatures that can dry them out. A medium-high heat for 2-3 minutes on each side should do the trick.
Sous Vide Method
The sous vide method is arguably one of the most popular ways to reheat a variety of foods, including scallops. This method involves vacuum-sealing the food in a bag and then cooking it to a precise temperature in a water bath. Here's a simple step-by-step guide on how to use this method to reheat your scallops:
Prepare Your Sous Vide: Set up your sous vide machine in a large pot or container filled with water. *Set the temperature to 130°F (54.4°C) and let it preheat.*
Seal Your Scallops: Place your scallops in a vacuum-seal bag. If you don't have a vacuum sealer, you can use a ziplock bag. To remove the air from a ziplock bag, submerge the bag in water up to the seal, then seal the bag. The water pressure will push out most of the air.
Cook Your Scallops: Once the sous vide is preheated, submerge the bag of scallops in the water. Because the scallops are already cooked, you're just looking to heat them through. This should take about 30-45 minutes.
Sear (Optional): If you want to add a bit of color and texture to your scallops, sear them in a hot pan with a bit of oil after they've been reheated. This should only take about 1 minute per side.
This method will heat your scallops evenly and gently, ensuring they remain juicy and delicious. Remember, the key to reheating scallops is to do it gently to avoid overcooking them. With the sous vide method, you're able to achieve a perfect temperature throughout, making it a great option for reheating scallops.
*Safety Note*
The USDA recommends reheating leftovers to 165°F to avoid potential foodborne illness. Foods like seafood (or medium rare steak) texture can be negatively impacted at that temperature. This makes 130 degrees my personal preference as far as the highest temperature I would recommend from a texture perspective.
Does Freezing Ruin Scallops?
Freezing does alter the texture of scallops slightly due to their high water content. However, if properly frozen and thawed, the change is minimal and they still make a delicious meal. The key to preserving the best texture and flavor lies in the freezing process remove as much moisture and air as possible before freezing and thawing slowly in the refrigerator.
Tips for the Best Results
To help ensure the best results when freezing cooked scallops, consider these helpful tips:
Invest in a Vacuum Sealer: Vacuum sealers are great kitchen gadgets for preserving a variety of foods. They remove much of the air from the storage bag, which can help prevent freezer burn and extend the shelf life of your scallops.
Cooked Scallops Only: Remember, this guide is for cooked scallops. Raw scallops have a different freezing process.
Don't Forget to Label: In the flurry of meal prep, it's easy to forget when you froze your scallops. Always label your container or freezer bag with the date. This will help you keep track of the freshness of your scallops and ensure you use them within the recommended time frame.
Ways to Use Leftover Scallops
If you've thawed your frozen scallops and are looking for different ways to incorporate them into your meals, you have quiet a few options. Consider adding them to pasta dishes, stir-fries, or salads. They can also be a great addition to a seafood stew or bisque.
The most important thing to remember is that reheated scallops should generally be added toward the end of the cooking process to prevent overcooking. Here are a few recipes that are particularly well-suited for reheated frozen scallops:
Scallop Pasta
Scallops make a wonderful addition to creamy pasta dishes. Simply toss your reheated scallops into your favorite Alfredo or carbonara pasta at the last minute, and you've got a restaurant-quality meal.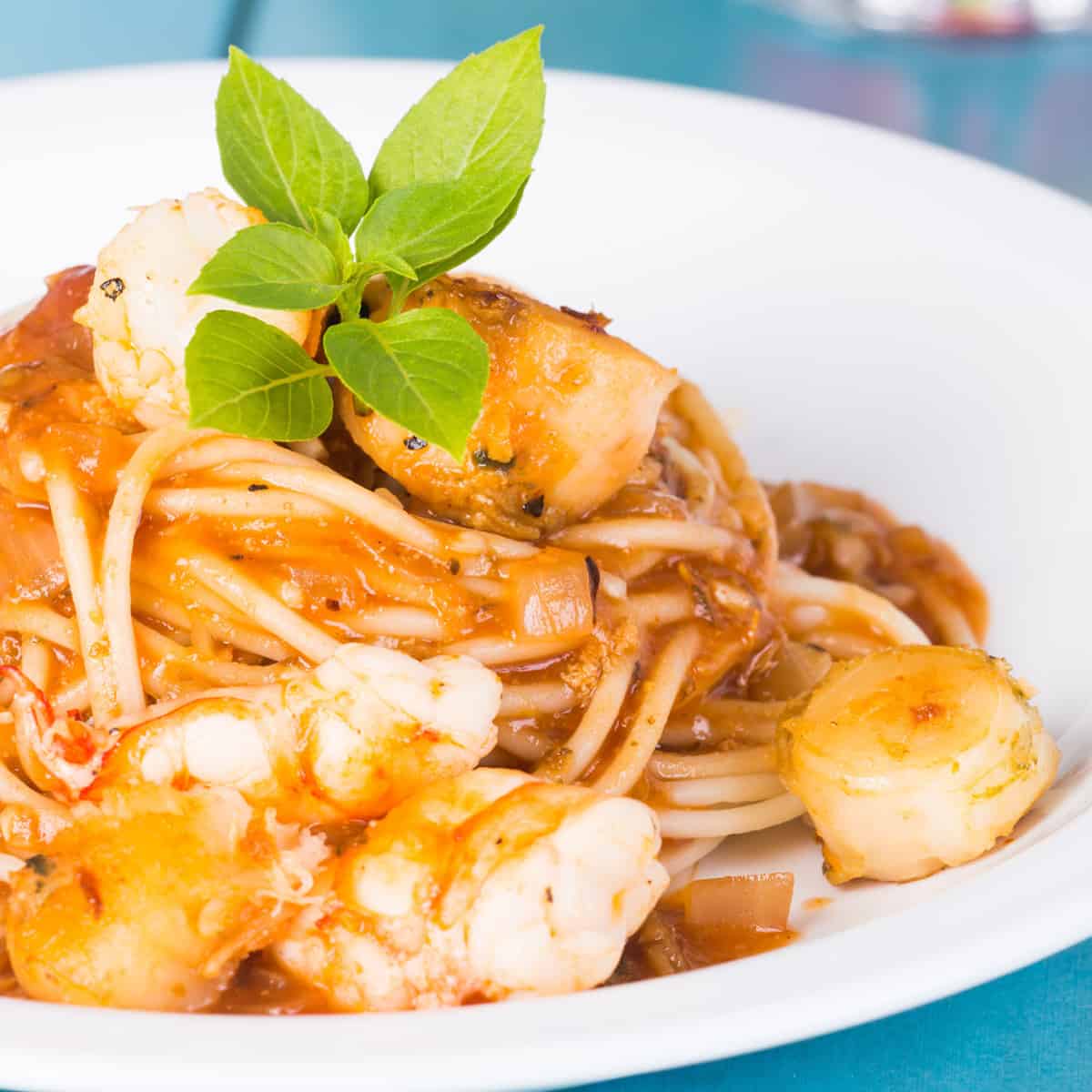 Scallop Bisque
If you're in the mood for something comforting, scallop bisque could be the answer. Add your reheated scallops to a creamy seafood soup base, or add vegetables to make it more of a chowder if you'd like.
Creamy risotto with a rich broth base is a great way to highlight the tender texture and sweet flavor of scallops. Stir in the reheated scallops just before the risotto is done cooking.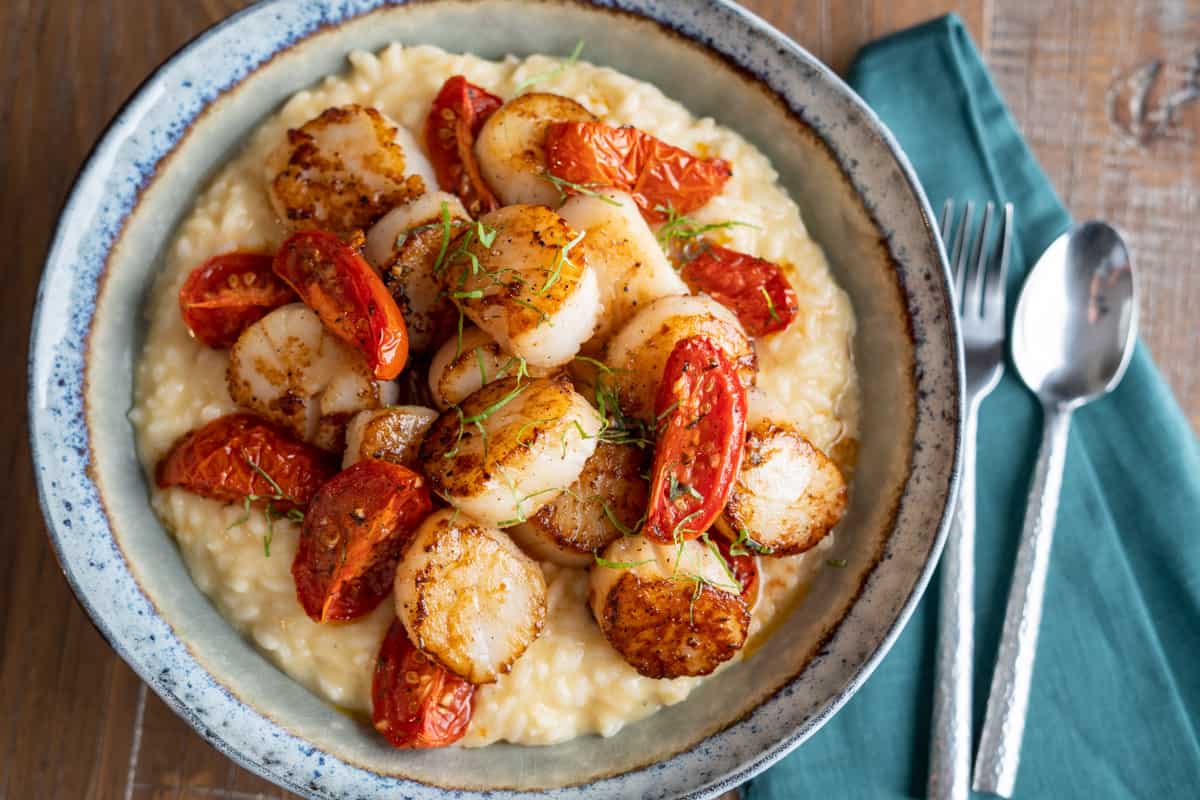 Scallop and Shrimp Scampi
Pair scallops with shrimp in a classic scampi recipe. The garlic, butter, and white wine sauce will complement both types of seafood perfectly.
Scallops with Creamy Polenta
For a hearty, comforting dish, serve reheated scallops over creamy polenta. The polenta can be flavored with parmesan cheese, garlic, or fresh herbs for added depth.
Paella with Scallops
Traditional Spanish paella often features a variety of seafood, including scallops. Adding reheated scallops to the mix will enhance the dish's oceanic flavors
These are just a few ideas, but the possibilities are endless. The most important thing is to ensure the scallops are reheated properly to maintain their delicate texture and flavor.
Remember, scallops have a delicate flavor, so it's best to pair them with ingredients that won't overpower their taste. Whether you're creating a main course or an appetizer, reheated frozen scallops can make a delicious addition to your meal.
Chef's Note
While the process of freezing and reheating scallops is not something I typically recommend due to the potential compromise in texture and flavor, I understand that in today's world, with rising food costs and a greater awareness of food waste, this method can be a viable option.
If you find yourself with leftover scallops and can't eat them in the recommended time frame, freezing and reheating can be an alternative to wasting this valuable seafood. It's important to remember that while the quality might not match that of freshly cooked scallops, it can still result in a satisfactory dish for personal enjoyment or for reheating leftovers.
The key is to handle the scallops carefully during the freezing and reheating process, following the guidelines provided in this article to minimize any potential quality loss.
It's also worth noting that the best dishes to incorporate frozen and reheated scallops are those where scallops are not the star of the dish, but rather one of many components. In these cases, any minor changes in the scallops' texture and flavor can be masked by the other ingredients in the dish, making for a tasty meal that reduces waste and stretches your food budget.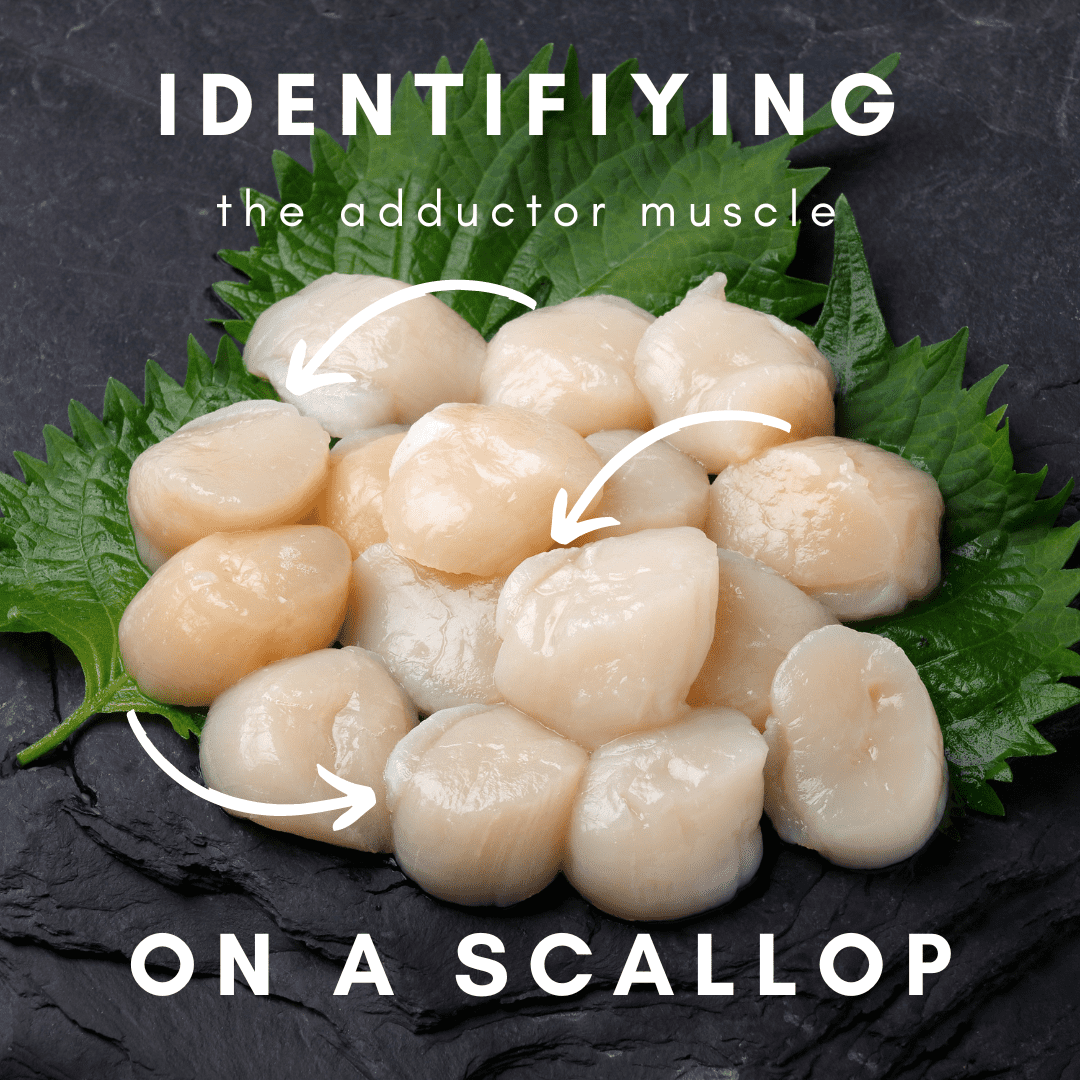 Final Thoughts
Can you freeze cooked scallops? Absolutely! With a little effort and the right know-how, you can extend the shelf life of your cooked scallops and prevent food waste. Whether you've cooked a large batch of scallops for a dinner party or found a great deal of fresh-caught scallops at your local fish market, don't be afraid to store them in your freezer for future use.
Just remember: the key to freezing scallops successfully is to remove as much air and moisture as possible, freeze them in a single layer, and thaw them slowly in the refrigerator for the best results.
So, the next time you're faced with leftover scallops, don't let them go to waste. Freeze them following our guide, and you'll be able to enjoy this delicious seafood delicacy at a later date. Just imagine pulling out a bag of already-cooked scallops from your freezer on a busy weeknight — talk about an easy and delicious meal! Bon appétit!