This is one of those really easy dinner night recipes that we make pretty often. Our Italian Sausage bake mixed peppers, onions, tomatoes, and garlic together with Italian sausage for a quick dinner that everyone is happy about.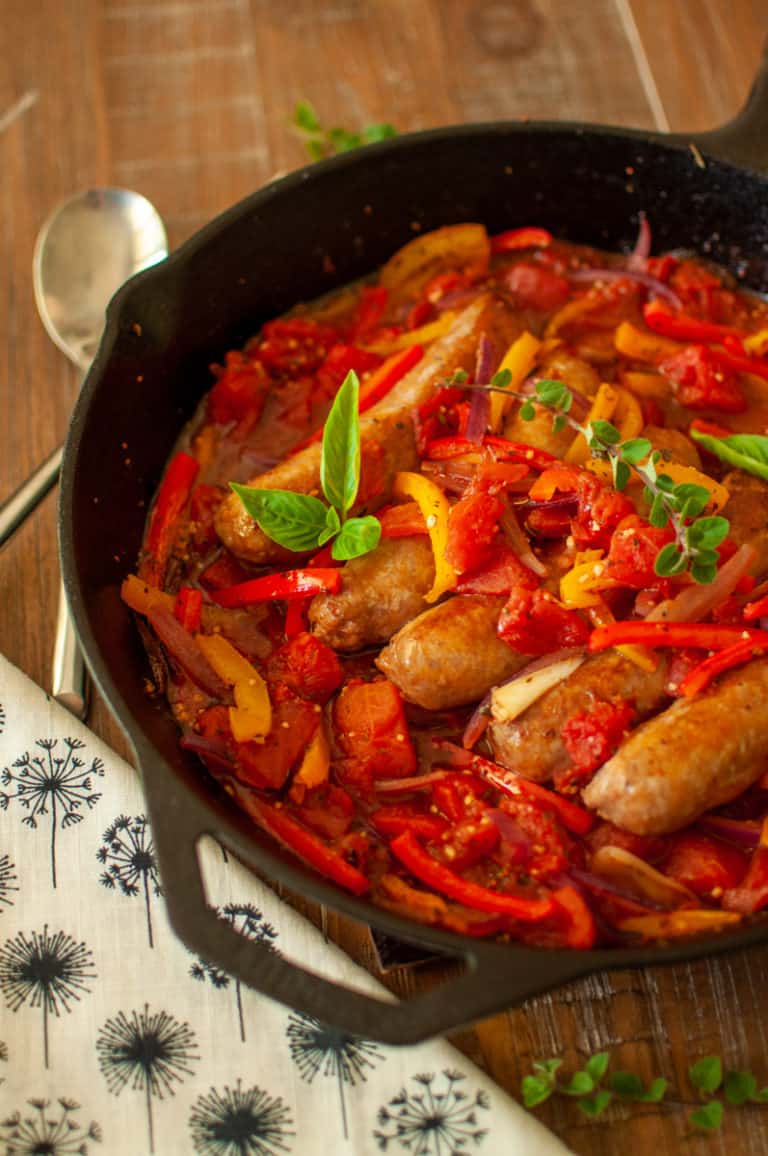 Italian sausage in general is a relatively inexpensive and convenient protein. We keep it in the house at all times for quick and easy dinners. It freezes well in airtight containers and can be used in a plethora of recipes.
Personally, I prefer Costco's Italian sausage if I have a choice not only because it's delicious, but it also comes in a 4 pack (5 in each pack) which makes it super easy to throw 3 in the freezer and keep 1 in the refrigerator. We use it for soups, and spaghetti, grilling them for subs, or for this simple one-pan wonder.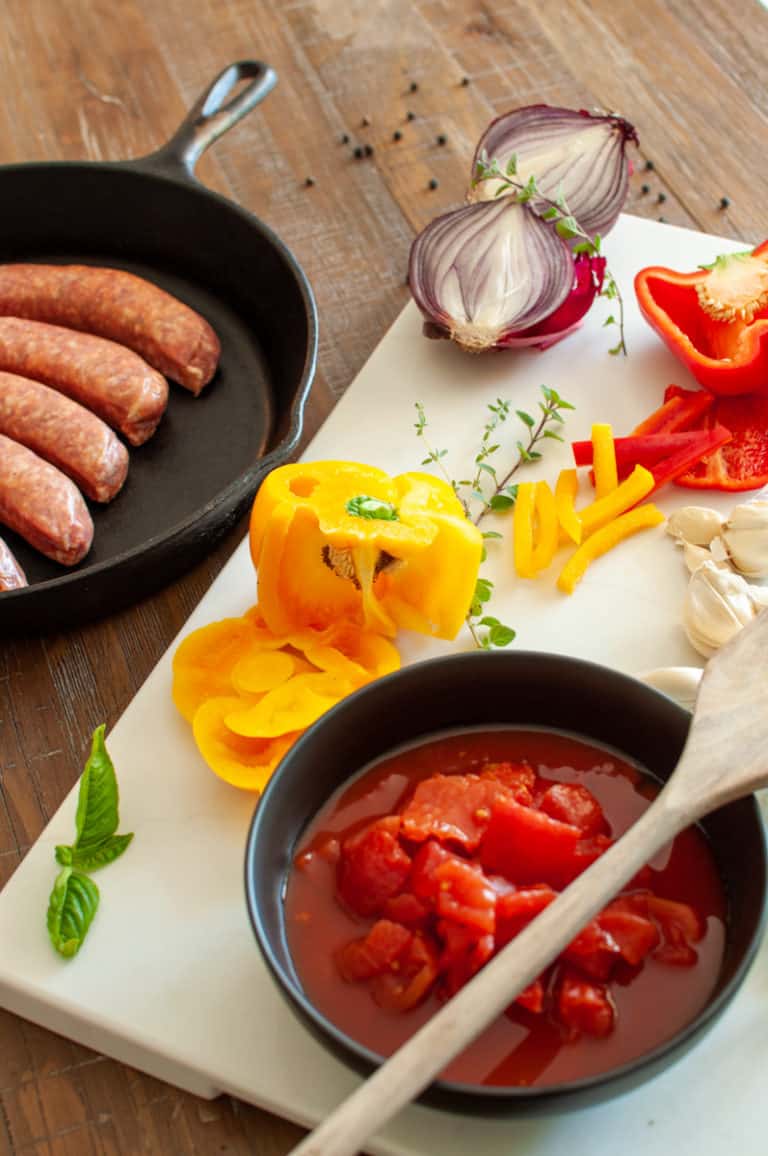 Cast Iron vs. Others...
We use our Cast Iron skillets for this recipe. They are super versatile and we love them a lot. The hardest part about being a good Cast Iron parent honestly is taking care of it properly. Don't let this hold you back though. You can find lots and lots of tutorials online on how to make them last long enough to pass down to your Grandkids.
I prefer using a cast-iron skillet for this recipe since it can be thrown straight in the oven to finish, but there are lots of other options. Any oven-safe pan will work just fine, or if you don't have an oven-safe pan, you can easily modify this by cooking everything on the stovetop and then transferring it to a sheet tray or an oven-safe baking dish.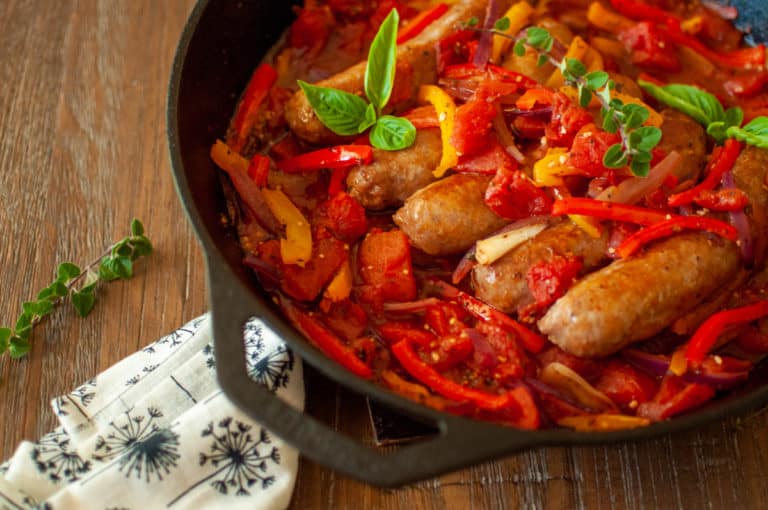 The Bell Peppers, Onions & Tomatoes
I am not super adventurous when it comes to my vegetable consumption. Bell pepper, red onions, and diced tomatoes are three I can get behind almost anytime. However, I do need them to be super tender which is another reason I love this recipe. When you finish everything in the oven, the peppers and onions have time to really break down and get beautiful soft.
When it comes to tomatoes, you can quickly level up this recipe by adding fire-roasted or sun-dried tomatoes as well.
This recipe takes less than 30 minutes from start to finish. It's a staple in this house and we hope you enjoy it!
What To Pair with Your Italian Sausage Bake
Looking for something to make on the side? No worries! We almost always make Parmesan Mashed Potatoes when we make these. They are easy to throw together and pop in the oven to cook while you are working on your main course.
📖 Recipe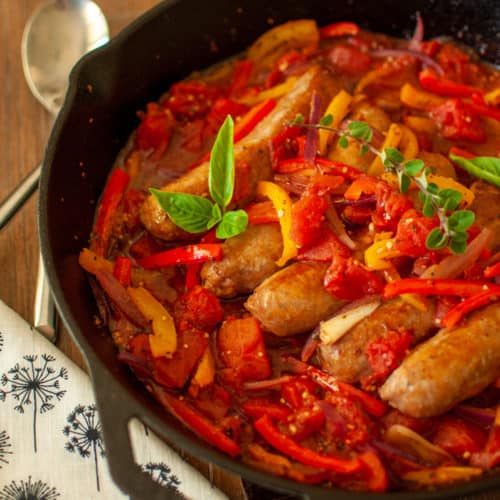 One-Skillet Italian Sausage Bake
One-Skillet Italian Sausage Bake
Ingredients
4-8

Italian Sausages

2

Bell Pepper

-

sliced

1

Red Onion

-

sliced

1

tablespoon

Garlic

-

minced

½

teaspoon

Oregano

-

dried

½

teaspoon

Thyme

-

dried

½

teaspoon

Basil

-

dried

½

cup

Diced Tomatoes

-

canned or fresh
Instructions
Preheat oven to 350 degrees

Mince your garlic and slice your bell peppers & red onions into thin strips. Set both aside, but don't mix together quiet yet.

Heat your Cast Iron Skillet to medium-high heat and add just enough oil to coat the bottom of the pan. If you don't have a cast iron you can use any oven-safe pan. If you don't have an oven-safe pan: when it's time to put everything in the oven, transfer it to a foil-lined sheet tray.

Stir the peppers and onions around the pan and then add the garlic and cook for just a few minutes or until you can really smell it cooking, but be careful to not let it burn.

Season with kosher salt and fresh ground pepper.

Add the Italian sausage back into the pan and bake 10-15 minutes, or until the sausage is cooked all the way through (160) and the peppers and onions are tender.
Notes
The Costco pack of Italian sausage has 5 links in it, which is why I used 5. You won't need to make more peppers and onions unless you are making more than 8 or so. 
My husband always eats 2, while the kids and I generally eat 1. Make enough for the people you are feeding. 
You could also add crushed red pepper to make this spicy if you like heat.
Eat on a roll, with potatoes, perogies or by itself. No wrong answer.
I am a fan of instant-read thermometers to double-check that my meat is cooked all the way through. Sausage needs to cook until 160 and it's nearly impossible to tell by touch. 
Nutrition
Serving:
1
Sausage
Calories:
426
kcal
Carbohydrates:
9
g
Protein:
17
g
Fat:
35
g
Saturated Fat:
13
g
Polyunsaturated Fat:
5
g
Monounsaturated Fat:
16
g
Cholesterol:
85
mg
Sodium:
866
mg
Potassium:
518
mg
Fiber:
2
g
Sugar:
4
g
Vitamin A:
1916
IU
Vitamin C:
84
mg
Calcium:
49
mg
Iron:
2
mg