Meringue frosting is easier to make in real life than you think. All you need is motivation. It only takes about 15 minutes to make, it costs under $2, and it is an absolute show-stopper.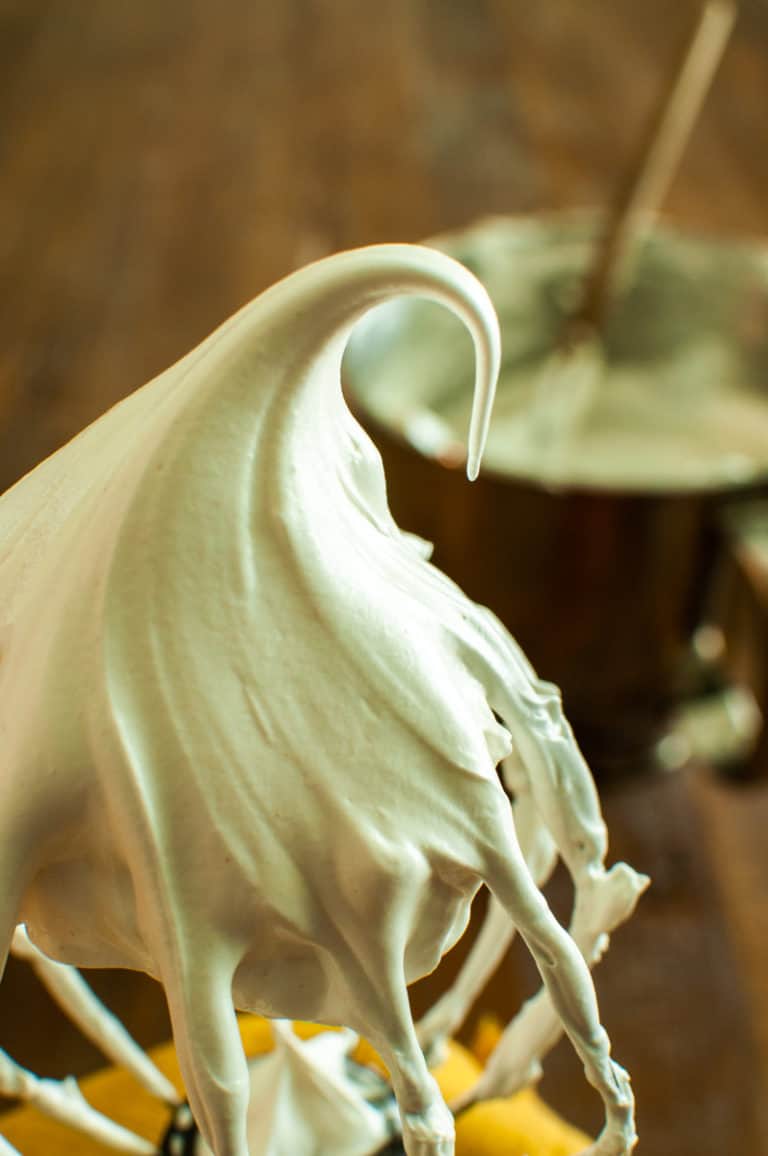 Jump to:
This is my absolute favorite recipe for my fall favorite s'mores cakes & cupcakes, so be prepared for lots of pictures of those in this post. This was also the first week I started using my DSLR camera and I was so proud of how these images were turning out. It will be funny to look back at these years from now and judge them...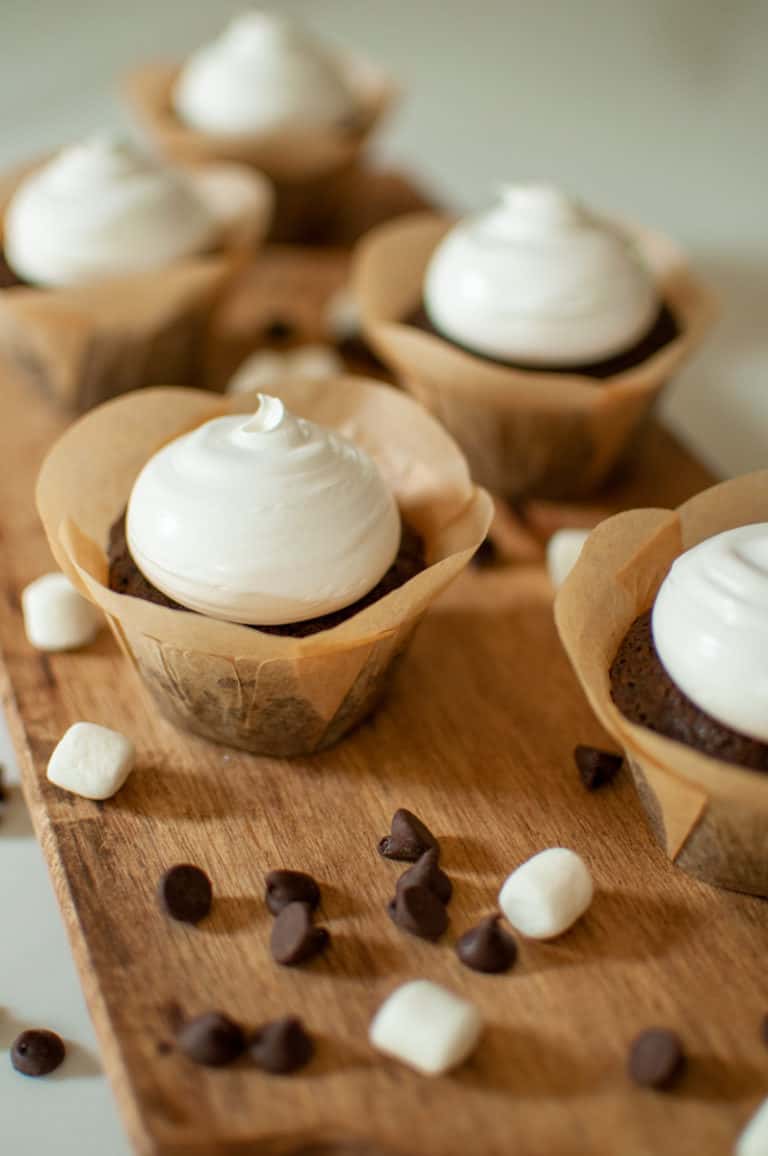 🛒 Ingredients
Egg Whites
Vanilla
Sugar
Cream of Tartar
This recipe is only 4 ingredients. Cream of Tartar is the weird one that throws most people off. Basically, cream of tartar stabilizes the egg whites so they don't collapse or fall. Imagine making a beautiful light frosting and then coming back in a few hours and it's a pile of sticky goo.
Now, for me, one of the reasons this recipe seems more complicated in my head than it actually is in person is because of the egg whites. Don't panic. As long as you have a thermometer to help you confirm we've reached the right temperature, you will be JUST FINE. To make that happen you need to set up a double boiler...
📖 Instructions
Following the directions in the recipe below, add the egg whites, sugar, and cream of tartar in a heatproof bowl and give it a mix. This could be a glass bowl or your metal KitchenAid Mixer bowl.
Place your bowl on top of a small pot of simmering water, making your own double boiler setup. In its simplest form, a double boiler is a pot with around 1" of water in it, simmering. This setup is meant to very gently cook whatever you are making. In this case, we are trying to avoid cooking the egg whites so much that they turn white (like an omelet).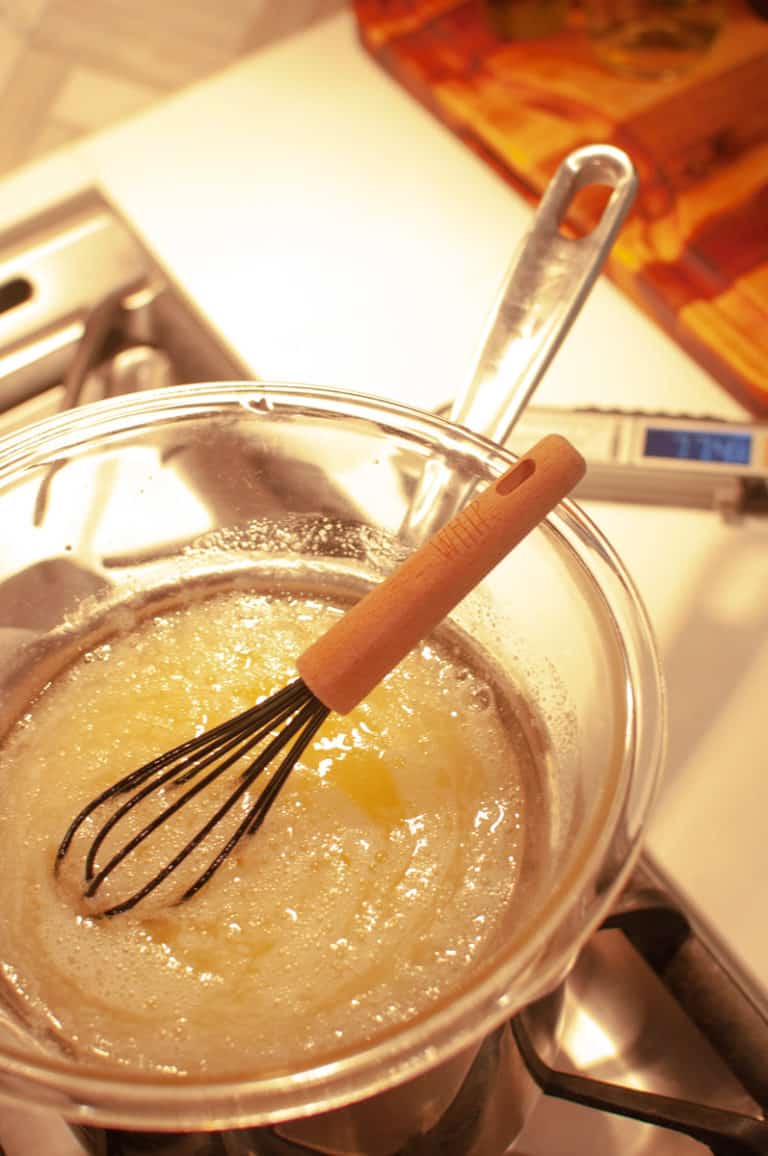 We need to heat the sweetened egg white mixture to 155 degrees. Reason #1, killing any bacteria in the egg whites. #2, dissolving the granulated sugar. If we can do both of those things, without turning them into sweet scrambled eggs, we'll be smooth sailing from here.
Incorporating Air
Once you've achieved 155 degrees, you will move your sweet egg white mixture over to your mixer fitted with your whisk attachment. Add your vanilla and start whipping your meringue base on high for 3-5 minutes. Each mixer is different but the foolproof way to tell if it's done is by taking your beater and flipping it upside down to see if your peak falls over or stays point straight up.
Soft Peak: When turned on its side, or upside down the tip of the frosting will be soft and fall over. This is ideal for recipes like homemade whipped cream.
Stiff Peak: A perfectly stiff peak stays in the exact same shape when turned to the side or flipped over.
🎥 Video
🎂 Decorating Your Cake or Cupcake
Your frosting is ready! I 100% recommend using a pastry bag with just a simple round tip if you're making this meringue for cupcakes. The frosting comes out gorgeously smooth, and it's actually so much easier to work.
If you are still looking for a super yummy cake recipe to make alongside this frosting I'm pretty obsessed with our Chocolate Espresso Cake recipe.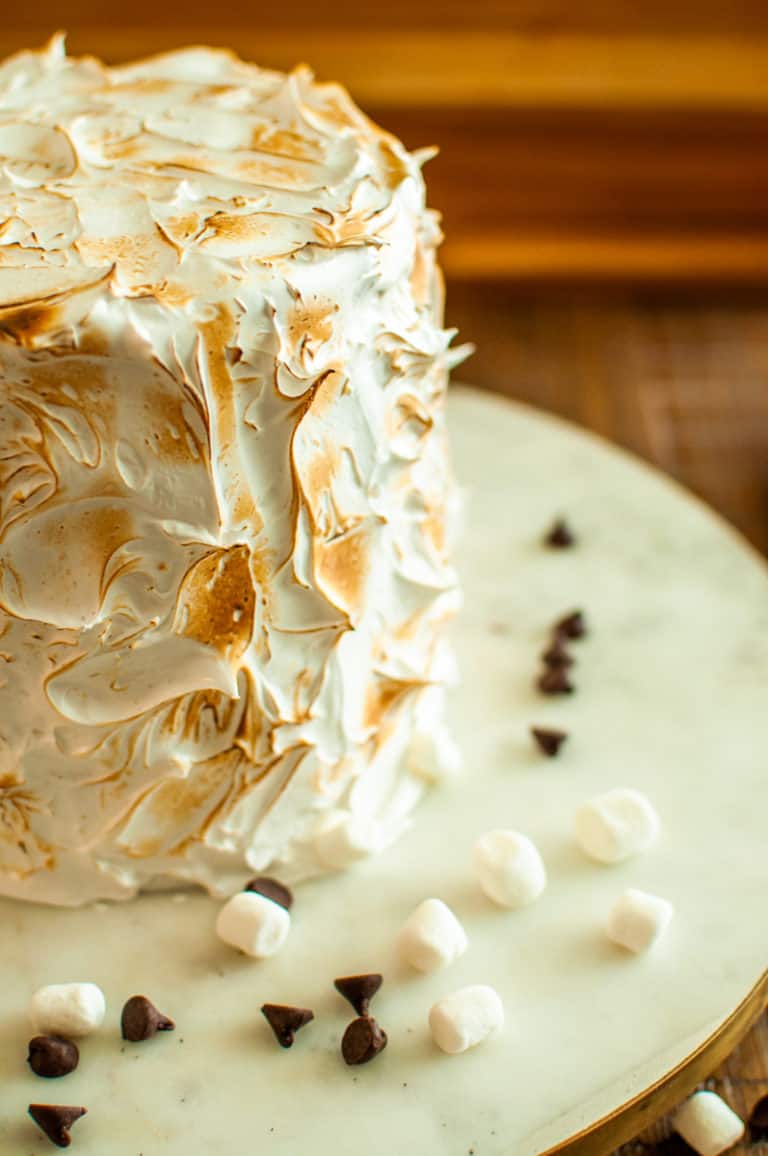 🔥 Toasting Your Meringue Frosting
Using my trusty creme brulee torch, I start far away and come in closer until I achieve the level of brown I like. There is a little bit of a learning curve but feel free to watch the video!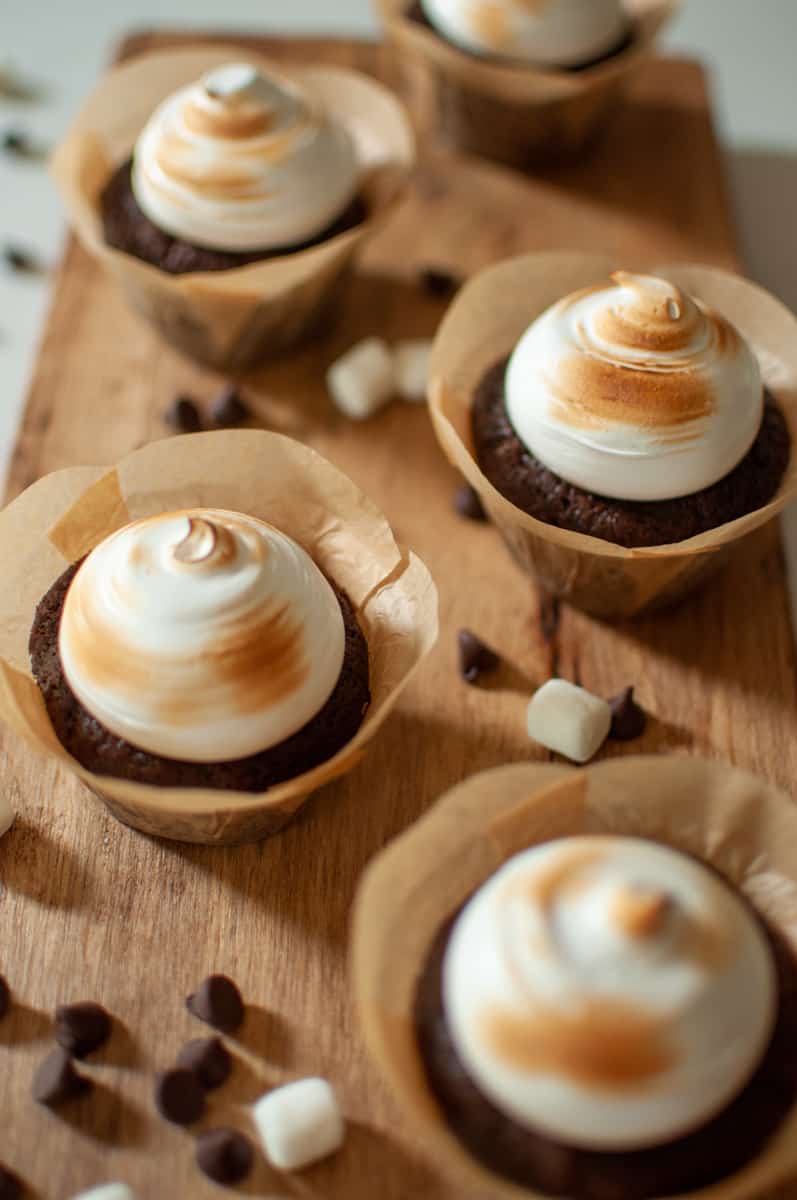 👩🏼‍🍳 Chef Tip
#1 When toasting your meringue, start by holding the torch far away and getting closer slowly. It can burn quickly!
#2 Owning an instant read temperature is incredibly helpful in this recipe and so many others. If you're like me and are bad at buying things for yourself, add it to your wish/birthday list!
📖 Recipe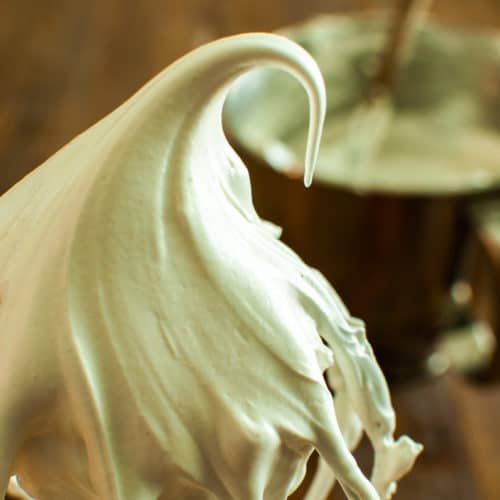 Meringue Frosting
Light, fluffy, and the perfect frosting for your sweet treats! Ideal recipe to add a little torch to and brown for that signature fall flair.
Ingredients
5

Egg Whites

1 ¼

cup

Granulated Sugar

¾

teaspoon

Cream of Tartar

2

teaspoon

Vanilla Extract
Instructions
Separate the egg whites from the egg yolks. I highly suggest doing this in a small bowl one by one, then adding them to your larger bowl. This will prevent you from accidentally getting any yolk mixed in.

In a medium/large glass bowl, mix together the sugar, cream of tartar, and egg whites.

Place your bowl on top of a pot of simmering water. An inch of water will do here. We are looking for a double-boiler kind of situation.

Using a small whisk or spatula, mix the egg whites slowly until it reaches around 155 degrees. I highly recommend a digital thermometer for this!

Once you're at temp, remove your bowl off the stove (be careful the bottom and sides will be hot) and add your vanilla extract.

Using an electric mixer, whisk your sugary egg whites for 3-5 minutes or until you have nice stiff peaks.

Frosting will be very sticky. Using a pastry bag is the easiest way to apply your frosting but not necessary.

If you'd like to toast your marshmallow meringue, decorate your cake or cupcakes as desired, and then using a mini torch toast the edges/sides/peaks until you are happy with your masterpiece.
Nutrition
Calories:
45
kcal
Carbohydrates:
11
g
Protein:
1
g
Fat:
0.04
g
Sodium:
11
mg
Potassium:
26
mg
Sugar:
10
g
Calcium:
1
mg
Iron:
0.01
mg